Simon Halford BSc MSc Dip Psychotherapy
Dip Psychosexual therapy
Couples Therapy, Psychosexual / Sex Therapy in Central London, Southampton, and Portsmouth
I am an experienced Psychotherapist, specialising in the treatment of sexual and relationship issues using a range of approaches to meet the individual, couple's or family's needs. I offer couples therapy, psychosexual and sex therapy in Southsea (Mon-Wed) and Central London (Thurs-Fri).

I am a COSRT senior accredited Psychosexual Therapist and an accredited Supervisor. I practice couples therapy and counselling at 96 Harley Street Central London and sex and psychosexual therapy in Southsea, near to Portsmouth and Southampton.

Therapy is strictly confidential, and includes psychodynamic, person centred and cognitive behavioural approaches.

I have worked in the NHS and privately for more than 25 years and am accredited by the College of Sexual and Relationship Therapists (COSRT) and the UK Council for Psychotherapy (UKCP) .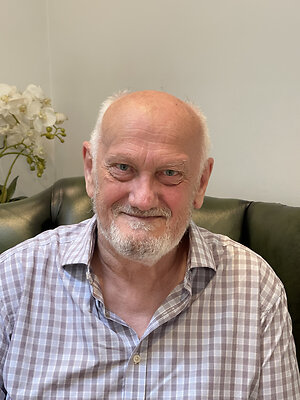 Typically you would have an initial assessment where mutual suitability can be established, the issue or issues you would like to work on can be discussed, as well as the frequency and number of sessions you might need. Any queries or questions you might have can also be addressed at this time. The cost of a session ranges from £120 to £150 and can be done face-to-face or online depending on location; concessions are available.

Through counselling and therapy I aim to provide a safe environment and practical solutions for exploring and addressing sensitive sexual and relational problems for individuals and couples.

The issues I treat include erectile dysfunction, pain during intercourse, loss of libido (sexual desire) and the impact of serious illnesses including cancer, strokes and cardiovascular issues on sexual function and relationships. I have a particular interest in:

- Neurodiversity, including ADHD and autism
- Addictions, including sexual addictions such as pornography addiction
- General addictions and how they impact on relationships
- Cultural difference in couples and families

Please feel free to contact me by telephone on 07984 830449. Please leave a message stating your name and number if I am not available to answer, and your call will be returned as soon as possible. Be assured that all messages are dealt with in a sensitive and strictly confidential manner.

I am able to offer couples therapy and counselling, sex therapy and psychosexual therapy in Central London, and Fareham, near to Portsmouth and Southampton.

Client testimonial:
"We had been reluctant to seek help - and Simon was pretty much our first experience of therapy. from the moment we met, I felt that we were in the safest possible hands. Simon had a wonderfully avuncular manner, is extremely kind, and is generous with his guidance. We dealt with highly sensitive and at times acutely painful issues but somehow Simon's skills enables us to leave his room lighter than when we arrived." AG & SG
Coming up soon on the blog: The Impact of Neurodiversity on Relationships and Sex
Coronary Heart Disease and its impact on relationships and sexual function


In talking to a lot of men (and women) I would say that over the years, the medical profession tends to view the patient from the perspective of how much damage is done to the heart, his recuperation and the level of function. For each person it is decided at some stage that they are "done." NHS are wonderful at treating heart attacks, stents are fantastic at repairing damaged arteries, however there is often a consequential variable amount of damage to the heart. They do a progressive rehabilitation process, once that has been completed, they assume you are fine to go and live a happy, normal life (with a few concessions such as a sensible diet and medication). This is their model - the focus is the person's cardiovascular health. The reality for the survivor is very different. They tend to underestimate the impact of the event on one's relationship with themselves and their partner.

Sexual function always has three components; physical, psychological and relational. Physically (see figure 1), a heart attack does impact on a person's capacity to engage in vigorous activity, but people overestimate the demand on the body. They think having sex requires much more 'energy' than it really does, and they are afraid of having sex after a heart attack, and of engaging in normal life things, in case it happens again. However, under medical guidance, once one can get up a flight of stairs, sexual activity is generally safe (of course always check with your doctor). The medication taken post heart attack may well have a negative impact on sexual performance, which I will discuss in my next article.

The psychological impact (see figure 1) of a heart attack can often leave the individual feeling quite vulnerable and self-protective, which is completely normal and understandable. Re-engaging sexually can be very reparative of these feelings. However, reviewing sexual scripts and being tender and close doesn't necessarily entail full penetrative intercourse, and taking baby steps with one's partner can often be reassuring for both individuals.

The relational impact (see figure 1) of a heart attack can be subtle but quite profound. The emotional dynamic can often become carer/patient which is often very un-sexy. Discussing these issues and considering how you return to a more normal relationship can often be very helpful in putting this limiting factor behind you.

For the partner, they also have physical, psychological and relational issues (see figure 1) subsequent to a heart attack. Physically the partner may have missed feeling desired and attractive due to the impact of the event. Psychologically, they may well be anxious and concerned about harming the other, and missing the psychological interest of their partner. Relationally, they may find it strange moving from carer to sexual partner.

If a coronary event has impacted on the calibre of your intimate relationship with your partner, I would encourage you to speak with a psychosexual therapist about this.